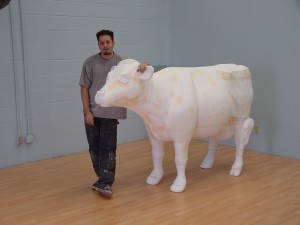 Our founder and President Cory Porterfield has had a long history in the creative world. In 1996 he graduated from Painting at the Alberta College of Art and Design. Then the second time in 1998 receiving a BFA in Glass. During his He received many awards and scholarships. Including the Pilchuk Glass Award in 1998. After graduating Cory was represent across Canada and into the States. His work was sent all over the globe.
In 2000 Cory started contracting to Studio Y. His work was well recieved and he quickly became a highly regarded fabricator/sculptor and even designer. Cory Stayed for almost 2 years and built a lot of work.
Cory started Heavy Industries in 2002 with three partners. They grew the business to 3.5million a year before Cory sold his shares in 2007. He acted as Vice President, Creative Director, Key Partner, Coating and Paint Specialist and for a time Production Manager. Heavy is still producing work today.