About Us

Starting as a glass studio in 2001, Porterfield Studios has quickly grown to provide high quality, affordable and truly out-of- the-box marketing solutions with big impact! With cutting edge design and production facilities, and a creative team of specialists, Porterfield works with its clients to develop and produce marketing and branding strategies from concept all the way through to execution. This allows for a smooth process for customers leading to seamless designs and highly integrated branding. Focusing on new and big ideas, Porterfield's talented team provides a full range of services including the development of marketing and branding strategies, as well as the production of 3D Custom Sculptures & Models, Auto Decals & Wraps, Airbrush Painting & Murals, Custom 3D Event Décor, Indoor & Outdoor Signs, Retail Design, and Parade Floats. Portfield's global production network offers quick turnaround times, while maintaining strict high quality standards.

"To develop and produce world-class marketing strategies and designs that allow our customers to stand out from the sea of competitors"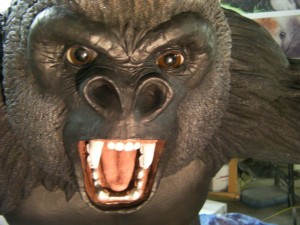 Cory Porterfield, is an accomplished and award winning design artist with over 18 years of experience in creative design and themeing. His meticulous attention to detail, as well as passion for thinking outside of the box sets him apart as a leader in high quality and innovative design. In addition to his creativity, Cory has a well-deserved reputation for his honesty, integrity and tremendous dedication to his customers. With a Bachelor of Fine Arts Degree specializing in glass art and production, as well as a Diploma in Painting from the Alberta College of Art and Design, Cory brings artistic ingenuity and hard skills to every project he is involved with. Cory has received various awards for his work including the prestigious Pilchuk Glass Award and has had the honour of being showcased throughout Canada, the United States and other parts of the world.
In 2000, Cory joined Studio Y, a fabricator of specialty 3D theme products, where his career in the theming business began. Often carving and fabricating 3D sculptures by hand, his work would be used for various high profile installations such as the Calgary International Airport, Banff Museum, and the Calgary Stampede Parade.
In a unique opportunity, Cory then became a founding partner of Heavy Industries where he took on the role of Vice President and Creative Director, specializing in coating and painting. Heavy Industries is a custom fabricator and design company that has developed into a leader in theme and architectural design and fabrication. After experiencing substantial growth and successes, Cory decided to depart from the company to focus his creative passions and subsequently sold his shares to the two remaining partners in 2007. Three years later, Cory wanted to expand his operations and founded HardCoat Limited. This has allowed him to excel in his creative pursuits while fuelling his passion for creating amazing designs and high quality installations for his customers.